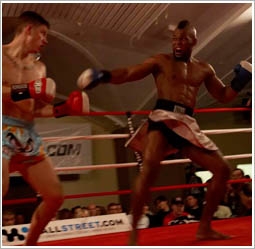 If you missed Easter services this past weekend, there's another opportunity to hit up church this weekend.
Call it the alternative "Good Friday"—the basement of St. Paul the Apostle church will be transformed into
Friday Night Fights NYC
as the classroom is exchanged for a ring, the priest gives way to a referee and clerical robes are pulled off to reveal red and blue gym shorts.
The featured bouts include Muay Thai and men's and women's amateur boxing. Turntables will spin hymns by Roc-A-Fella and House of Pain, and by 8:35 p.m. the room will be filled with screaming union workers and NYC firefighters, hipsters and bankers. Sapporo cans and hot dogs sell for $3, and every one of the 1,200 seats is prime real estate for watching the inevitable blood fly.
The announcer with the massive dreads booms over the DJ in an HBO-quality voice as the roundcard girls compete for the audience's attention (they don't have to fight too hard for that).
Is there headgear? Most bouts.
Is there blood? Yes.
Are there women swinging wildly at each other
Million Dollar Baby
style? Yes (and these girls know how to throw a punch). Since we're not bringing them home, that's just how we like it.