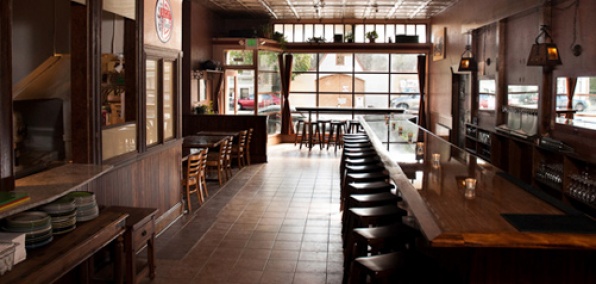 You can think of some great combinations: martinis and lunch, Sundays and brunch, the beach and string bikinis…

But you'll take pizza and beer over all of them. (Well, maybe not bikinis, but bear with us...)

Welcome Pi Bar, a pizza joint and brew pub rolled into one nugget of an off-the-beaten path locale, opening next week on Valencia.

Brought to you by Rich Rosen (Chenery Park, Boulevard), a Queens transplant who's always lamented the lack of real New York–style pie in SF, Pi will deliver a taste of Long Island moxie, done up SF–style. Which means you'll find no-nonsense pizzas in 15-inch or 21, as well as pizza by the slice (preferably held taco–style with three fingers while standing)—made with whatever standard toppings (not fennel fronds or roasted garlic) you want.

Of course, it wouldn't be a San Francisco restaurant without using fresh, local ingredients. And, you'll appreciate the other thing they're keeping local (with some select Belgians thrown in the mix): the booze. Look for 12 craft brews on tap—with only Anchor Liberty Ale and Blind Pig IPA staying in rotation—that are mostly one-offs like the Sierra Nevada Trippel, as well as more than 30 by the bottle. And if you want to study up, they've put together a beer bible with insider stories on each beer in house.

There will also be a nightly happy hour—"Pi R Squared"—that'll be a slice and pint for $6.28.

To further your "studies."