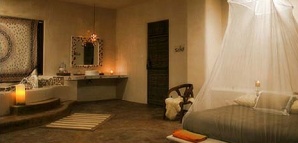 There are some innovations so brilliant we are humbled in their presence.

The Amansala Bikini Boot Camp might be one of them. Tucked away on a secluded beach in Tulum, Mexico, the eco-chic resort has long been a destination for sleek young women wanting to look even sleeker via 7 a.m. beach jogs (dedication to good health never looked so lovely). And now, with the launch of new co-ed packages and the recently renovated Casa Magna, the late druglord Pablo Escobar's oceanfront estate just up the beach, there's nothing hindering you from pursuing your own bikini-clad cartel-leader villa party.

Amansala's 25-person, co-ed, six-day program features a light schedule of activities including ocean kayaking, sand sprints, biking jungle trails and natural-resistance-training. Just to make sure your experience isn't getting too rough, though, all that hard work is interwoven with Ashtanga yoga, shiatsu beach massages and co-ed Mayan mud treatments (participants coat each other—it's a collaborative kind of place).

Skip Amansala's eco huts in favor of the nearby Casa Magna, with unobstructed jungle and Caribbean views. Groups should rent one of the villa's airy havens with palapa roofs and rounded, bullet-proof stone walls (just in case). Whatever your Escobar-like hungers, they'll be fulfilled—meals include fresh local seafood and you can retire to the rooftops (where gunmen used to stand watch) for rare tequila tastings.

It's a tough life in those Mayan Riviera boot camps.