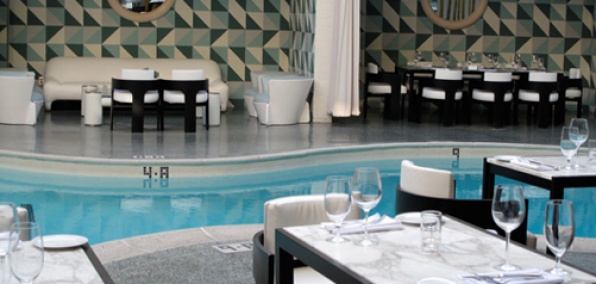 Ten o'clock.

Right before the night slips into later night and things really get going.

Just about the time you need a bite of something savory, a sip of something with a little kick and a few good, long-legged reasons to keep your night rolling.

Introducing Oliverio, a poolside trattoria perfect for an evening of chaise lounging, starlet mingling and Italian cocktailing, now open for your poolside pleasure at the Avalon Hotel.

Oliverio feels like the kind of European palace pool that you want to lounge about, drinking Negronis enjoying the breeze and discussing Fellini with supermodels. You may recognize the former Blue on Blue spot from its shape, but Kelly Wearstler (the famed Viceroy designer) has turned the formerly minimalist den into an Italian palazzo, full up with walls of mosaic blues, dark woods, gilt ceramic columns shaped like giant chess pieces and floor-to-ceiling curtains for supreme privacy.

You'll want to swing by after sunset and settle by the pool, perfectly positioned for watching the parade of lovely entrants. And while you could sit at a table—candles flickering, bamboo and palms whispering against the dusk—the real action is in the cabanas, where cocktail in hand (Bellisimo, Sicilian, Amalfi), you can fit six to a couch…if you sit close.

Before the distractions get too…distracting, put in your order: start with the handmade pasta, from Spaghetti With Spicy Langoustines to Tortelli of Braised Lamb, Tomato and Black Olives. Or there are the pizzettas, each crust fried (because everything tastes better fried) before the addition of toppings (go for goat cheese and black summer truffles) to create a masterful collision of crisp and chewy.

Think of it as la dolce vita, LA style.