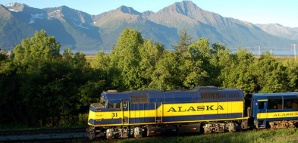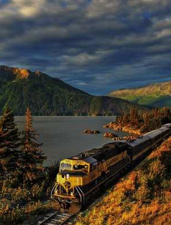 Sometimes you need to get away. Where everybody knows your name. And they're always glad you came…
Or, failing that, maybe Alaska.
Welcome to the
Great Alaska Beer Train
, a railroad ride of adventure, the great Arctic wilderness and beer, taking reservations now.
First, you'll need to get to Anchorage (we'll leave that in your capable hands). Once you're there, you'll hop aboard the Microbrew Express (really, that's its name), where you'll head south toward Portage. You'll pass alongside Turnagain Arm, a seaside inlet where you might just spot an eagle or a beluga whale (or that other great beast of the north, Todd Palin). And because the cars' ceilings are glass domes, you'll also be treated to unparalleled views of the great northern sky (suck it, southern sky).
If you can pry yourself away from the scenery, you can enjoy six half-pints—we're not math majors, but we think that's three whole pints—of locally made BrewHouse beers like the Beam Pumpkin, aged in Jim Beam barrels. (Should that prove insufficient, stop by the Tiki Car—complete with fake palm trees—for additional liquid refreshment.) It's all paired with local delicacies like lamb or ribs, though the menu isn't final just yet.
And no, you can't see Russia.