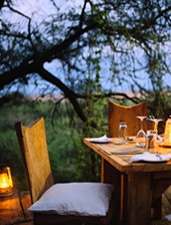 Your quest for memorable meals has taken you into the darkest recesses of the city. (Also: Encino.)
And now it will take you…to a mysterious street-food feast in someone else's backyard.
If, that is, you're up for the curious culinary adventure known as
Graffeats
Guerrilla Dining
, now accepting reservations for its Los Angeles debut.
It's all very hush-hush, but here's what we can tell you. After you secure the secret address, you'll make your way to a clandestine Hancock Park residence. Out back, you'll find an artisanal cocktail awaiting you and your fellow coconspirators. (There's probably time for two.)
Then, as sundown becomes a memory, you'll be treated to a five-course feast of sidewalk fare from a San Francisco chef, all served family-style—everything from
Pho Dumplings
to
Strawberry Mountain Beef Shortrib Pupusas
. Goes without saying there's copious amounts of wine with all of it.
But there's also some live music. Some poetry. And, in keeping with the street theme, a graffiti artist doing what he does best.
Because in Hancock Park, you gotta keep it real.