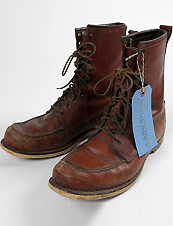 Maybe it's the crisp autumn air, maybe it's something else, but lately you've felt the crazy urge to pick up a couple of button-downs, some bottles of whiskey cologne and (why not) a train engine tie bar—all in the same place.
And you'd like to do so in your underwear.
Making this insane dream a reality:
Hickoree's Hard Goods
, a brand-new source for timeworn rarities both new and vintage, online now.
Think of it as the vintage store of your wildest fantasies, if for some reason you fantasize about vintage stores. There's plenty of gear to get you stocked for fall—and given some of it (like the Lee chambray shirts and Red Wing boots) hails from the '50s, it should at least last you until spring. (That it'll make you look like you've survived a few hard decades of your own is all the better.) And then there are apartment-ready oddities like a Mexican brass charm, handmade to look like a saw—and the saw actually cuts.
Not that it's all vintage—there's also a full line of colognes (including whiskey) from
Portland General Store
, a BSA belt with storage space for the important stuff (cigarettes, a flask) and, coming soon,
The Few Pilot's Jackets
, modeled after what the Greatest Generation wore in WWII, and made (ironically enough) by a Japanese guy who moved to New Zealand to spend his days flying planes.
Sign us up for that.