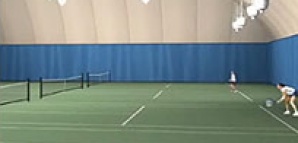 Nothing brings out the passively competitive spirit of the corporate world like the aggressively competitive spirit of racquet sports.
Sure, you're all smiles when you invite the new guy to the club for a little exercise, but by the third set he's panting like a Great Dane and you're still tossing shots into the corner. Next time he'll think twice before he calls you in the Hamptons.
Now if you could just find a venue that's appropriately swank. Say hello to
CityView Racquet Club
, a tennis club with more than just concrete and top paint, now accepting applications. It's run more like a country club, keeping membership limited and providing valet parking and limo service. With a small membership, the faces stay familiar and you don't have to sign up for a court a month in advance. Blue blazers and complaints about "riff-raff" are optional.
Set up on top of the Swingline Building in Long Island City, CityView has one of the only doubles squash courts in town, as well as a view of the skyline that's worth crossing the river for. Add in a full gym and spa, complete with sports massage to cool you down after the game, and it starts to feel more like
Liberty National
than New York Health and Racquet.
And for a celebrity sponsor, they've got tennis legend Nick Bollettieri—coach to Andre Agassi and Boris Becker among others—stopping by for clinics and the occasional speech, in case you need help releasing your inner McEnroe. (The trick is mastering the sidearm racquet toss.)
By the time you're done, you'll be sore enough to have earned that massage. After all, this isn't golf.