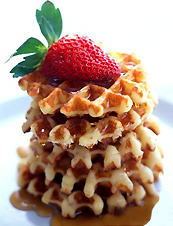 If your week is the meal—a Bacchanalian feast, to be sure—then your weekend is the dessert.
And epic weekends call for equally epic desserts. You're thinking an endless assortment of waffles and sweet grilled-cheese sandwiches. Welcome to
Syrup Desserts
, now open on Spring Street.
From morning until midnight, you can sidle into this unassuming hideaway (wardrobe: T-shirt and jeans) to get your fix of
Caramel Apple Pie Waffles
. And
Double Chocolate Waffles
. And
Raspberry Tart
. Try them on their own with whipped cream and sugar, or match your choice with a deep selection of toppings and suddenly you might have a
Tropical Coconut
made up of a coconut waffle, lychee ice cream, pineapple and coconut flakes. You'll probably want some coffee, or maybe a
Habanero-Lime Iced Tea
.
If you roll in for a breakfast dessert and suddenly you realize it's already time for a lunch dessert, it might be time to try a
Peach and Mascarpone Grilled Cheese
, or maybe a
Blackberry Grilled
with blackberries, Muenster and walnuts on Texas toast.
It's totally cheesy. In a good way.