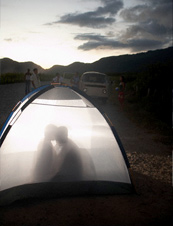 It's here.
Labor Day.
You've been patiently biding your time as this slow burner of a week painfully trudged toward Friday, and now, at long last, it's go time. Your limo is waiting downstairs, ready to take you to the chopper, which will in turn whisk you away to your international yacht BBQ party co-hosted by Heidi Klum and Kanye.
Well, just in case, if for some strange reason, your helicopter pilot doesn't post, we've stumbled across an alternate Labor Day escape that might just suffice…
Imagine, if you will, a placid, moonlit orchard, your favorite little laborer lying next to you under the stars, as you fall asleep, belly full of barbecue, to the dulcet tones of a live bluegrass band.
And imagine you can get there on the F train.
Here for a transporting little last-minute getaway is the
Labor Day Chicken BBQ & Camp Out
at the Queens County Farm Museum, selling tickets now.
Since the good folks at the farm museum are pretty laid back, just go about your usual Labor Day weekend business (which doesn't involve any business) and come Sunday, make your way to the orchard around 5pm.
From there the Brooklyn Brewery Oktoberfest starts flowing, you'll grab some freshly smoked chicken, corn on the cob and warm peach pie, and the band will strike up a little bluegrass next to the fire pit.
The only things you'll need to bring are a tent and whatever other accoutrements or little time-wasters you think you'll need.
Not that we'd necessarily call scotch a time waster.