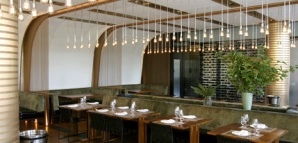 Sometimes, you've got to seal the deal in style—no, we mean actual deals.

Which means you need a restaurant that makes everything in it a good 15 percent more powerful. Finally, your next one has arrived: Craft, the Los Angeles outpost of the New York institution, which opens tomorrow next to CAA (location, location, location) and is now taking reservations for dinner.

You'll want to execute the handshake in one of the leather and velvet booths along the left wall, or one of the five outdoor cabanas, which feature curtains that can be closed during a sensitive liaison with the client you're about to poach. (There's also a private room in the back, for when you've got an entire office to poach.)

Chef-owner Tom Colicchio has been honored by the James Beard Foundation (that's kind of a big deal), but you also know him as the wise sage on Bravo's Top Chef, dispensing dollops of culinary wisdom like fresh buratta. In a nod to the sunlit environs, his new restaurant is brighter, bigger and breezier than its NYC brother (one word: terrace), but the focus on fresh ingredients is the same. The family style dishes, which change daily, might include Kumumoto Oysters, Lamb Tongue with Bing Cherry and a Wagyu Ribeye with Bone Marrow. If you've got a few colleagues to impress, we recommend ordering the Crispy Whole Suckling Pig.

Because, as all power players know, nothing says heavy hitter like a big hog.