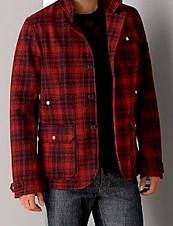 As today is (unofficially) the last day of summer, we'd like to spend it discussing…international relations.
Specifically, America's ongoing partnership with the Italians. It seems like whenever these great nations hook up, good things happen. Like
GoodFellas
. The pizza burger. Alyssa Milano...
Add another one to the list:
Woolrich John Rich & Bros.
, badass American gear made with a lean Italian fit, hitting stores now.
First (and our apologies), a history lesson: as America's oldest mill, Woolrich has been churning out rough-and-tumble menswear since Andrew Jackson was raising hell in the White House—including peacoats for the navy. Which means it should be tough enough to last you through to holiday party season (in 2029).
And like Hasselhoff before it, the line is big in Europe (where it's distributed by an Italian brand), but for some reason it's only now coming here. You'll notice a slimmer fit than traditional Woolrich (just in time for the end of BBQ season), but the clothes are still so gruff they should come with their own rifle (or at least a beard). Think thick plaid coats and cotton hoodies to keep you warm on your next hunting excursion (indoor or outdoor), but sharp enough to be worn to dinner that night.
Especially if you eat somewhere really cold.