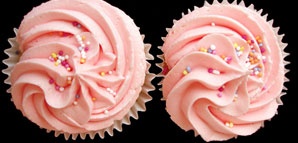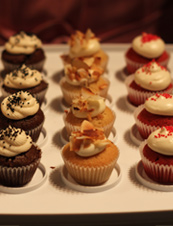 Salumi
and gelato by bicycle.
Escargot
and Peking duck via truck.
Wine in a trailer
…
It was only a matter of time before someone threw a golf cart into the mix.
Introducing
Mission Minis
, a new decked-out golf cart delivering batches and batches of tiny cupcakes (a wee bit bigger than a golf ball) to your door, filling orders now.
While you can pick up these sugary nuggets at various Mission coffee shops like Philz, Sugarlump and Ritual Roasters, it's always better to get the cart girl involved. And because the cart is electric, you don't have to worry about global warming when satisfying your cupcake fix—or really, hers.
When her sugar levels get unbearably low, the cure starts here: call up Brandon, music producer turned cupcake aficionado, with a day's notice so he can ensure he has the freshest locally sourced ingredients on hand. Right now, there are about seven different flavors to choose from, with more on the way. We say go heavy on the
Horchata
made with cinnamon rice milk, as well as
Mexican Chocolate
(a dark chocolate cake with spicy kick) and the classic
Ruby Red Velvet
.
And it couldn't hurt to ask about the
S'Mores
—which they break out for special occasions.
Like Wednesday.