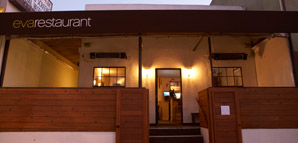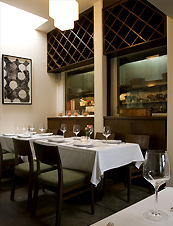 Ah, the dinner party.
The best of them mix alluring strangers, candlelight and wine. Lots of wine.
Well, we've found a promising new host—welcome to
Eva
restaurant, now taking reservations for its debut next Tuesday.
On most nights, things run as you'd expect—which is to say, you drop in to the tiny former home of Hatfield's, you order a bottle of wine, and you're handed a menu.
Foie Gras With Summer Melon
,
Maldon Salt and Maple Syrup
.
Chatham
Bay
Cod With Seawater Glaze
,
Liquid Potato and Raisins
. It all sounds great, and the prices aren't bad. But it's just a menu. You know how this works.
Come the Sunday dinner parties, though, things get a little livelier. The place is tiny, fewer than 50 seats, so you feel like you're in chef/owner Mark Gold's house, especially since there's no menu on this day. Just settle in by a window, and soon you'll see what he felt like cooking for you—all the food will come out on platters, to be served family-style, and yes, the all-inclusive price includes some free-flowing wine from bottles opened that week.
And you don't have to help with the dishes.