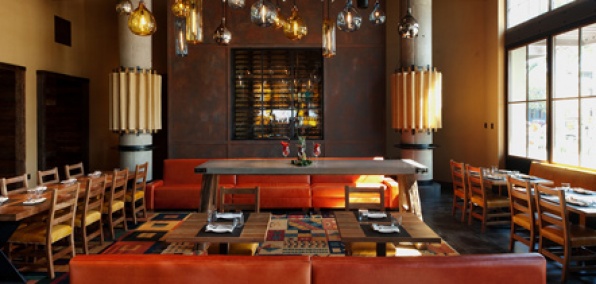 Whether or not you made it to Oakland's Eat Real this weekend, you're no stranger to the buzz about Jack London Square's waterfront revitalization.

And the buzz is about to rise to a roar this week with the unveiling of the first wave of openings.

Welcome Bocanova, a new waterfront restaurant dishing out cuisine that spans the Americas from Argentinean-style grilled meats to Costa Rican suds, officially debuting tomorrow.

Brought to you by a husband-wife duo with Chez Panisse and MarketBar pedigree, Bocanova (literally "new mouth" in Portuguese) takes the translation a little more figuratively and creates new flavors incorporating recipes from across the hemispheres (sort of like the NATO of food).

Once inside the 1926 ice warehouse turned pan-American eatery, you'll feel an instant warmth—maybe it's the heat exuding from the grills, pizza oven and stoves in the exhibition kitchen. Or maybe it's the earthy hued walls, woven Mexican rugs and wooden details made using reclaimed planks from an old barn. Either way, it'll make you feel settled in and ready for a basil gimlet crafted by Mr. Mojito (who, legend has it, reintroduced the mojito to SF in the '90s).

If you like sitting at sushi bars, we recommend the ceviche bar where you can watch them prep your Mexican Wild Shrimp Ceviche and Wagyu Beef Tenderloin Crudo.

If you prefer a little heat, sit by the grill and witness as they plate the meaty, Argentinean-style Bola de Lomo.

Or do a little bar hopping...