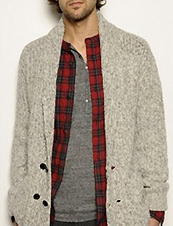 The heat has finally broken, September kicks off tomorrow and all of a sudden we're looking to fall. 
Which, of course, means it's time for the Olsen twins to start dressing you.
Yes, we mean the
Full House
moppets/moguls. And we think you should let them do it.
Introducing
Elizabeth and James
, a new line of straightforward, low-key gear that should keep you well heeled as you move into chillier times, now available at Barneys.
So maybe the idea of wearing a button-down shirt birthed from the brains behind the direct-to-video classic
To Grandmother's House We Go
is a little frightening—understandably. But if you're looking for a few good plaids, a classic American sweatshirt or the kind of versatile gray blazer that will get you through almost any situation (including the type of blazer-destroying late-night escapades that end when the sun rises over the East River), this is a good place to start this fall.
Maybe all those years in the Tanner household—or the intervening tabloid-friendly years spent dressing like wealthy street urchins—helped the twins tune into what guys like, but they've actually created the kind of sweaters, henleys and pants that you'll be wearing to kick around Sundays this football season, to grab drinks post work or to teach valuable life lessons through clichéd speeches and cheesy music.
You were always underdressed during your clichéd speeches.