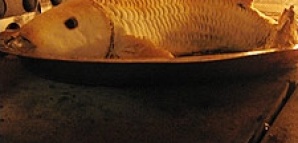 Art is not a democracy.

At Sea Salt, Orhan Yegen's new Turkish seafood restaurant opening this Saturday, you will quickly learn that fish is art. And Yegen is the dictator of fish as art.

According to Yegen, you have never tasted real fish. Fortunately, he will gladly suffer his art for your betterment. Come with an adventurous group and settle in at the butcher-block tables in the clean, modern dining room with large photos of old Istanbul on the blue and white walls. While the menu is intriguing (octopus boiled for hours before it's grilled, handmade seafood dumplings), you may want to forgo it all for the off-the-menu Baked Whole Fish.

The process begins at sunup. Yegen selects the fish at market (striped bass and snapper work best), cleans the beast in the open prep area and then covers the fish in a thick sea salt and egg white paste. As the paste hardens, Yegen goes to town drawing designs all over the fish, then bakes the creation (now wearing a full body cast) in the oven. The fish is then brought tableside, where he goes to work again: He douses the fish with cognac and sets it afire, then takes a hammer to crack the salt cast. What's revealed is a steaming hot, fleshy striped bass that tastes like...a damn good striped bass.

According to Yegen, it's what separates him from other so-called "amateurs" around town ("Le Bernardin: Terrible. Who puts fish in a coconut sauce?").

Modesty and art clearly don't mix.