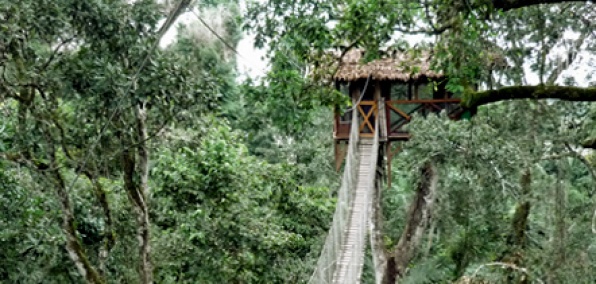 You may not remember, but with the right equipment, a tree house can be pretty sweet. A tall tree's a good start—just far enough away that you've got the space to yourself—but then you'll want to bring in the chairs, the binoculars...

...and maybe a few drinks.

Welcome to the Canopy Tree House, a bar- and butler-equipped luxury suite resting 90 feet off the ground in the middle of the Peruvian Amazon, open now.

Nostalgia aside, it's better in just about every way: the construction has noticeably improved from your childhood haunt, the wildlife will be kept a safe distance away from the bedroom and there's a butler on hand to attend to your every whim. (You can reach him by walkie-talkie or, if you're feeling aristocratic, the guest whistle.) When you're done being waited on, you can lounge around the drop-leaf table, take in the native-styled palm-thatched roof or explore the surrounding jungle through a series of Ewok-style bridges slung tree-to-tree, giving you access to a communal dining room, a 24-hour "canopy bar" and eight separate observation platforms, each with a parrot's-eye view of whatever wildlife happens to be swinging by.

You'll have to give up a few luxuries, but you'll get a few in return. For one, don't expect to be fielding any calls from the helpless underlings back home: WiFi, electrical outlets and all but the essential lights are missing in action…but you didn't come out here to check your email. And, in return, you'll get nightly pisco sours (or Chandon, for the festive) to ring in the sunset.

Just be careful. It's a jungle out there...