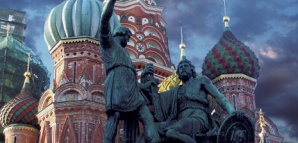 Gorbachev never had it this good.

But now that Moscow is basking in a post-perestroika luxury party, a Ritz with views of the Kremlin was inevitable.

The new Ritz-Carlton Moscow has just opened its doors in an epic landmark—formerly the Hotel Paris, where Chekhov sampled his share of vodka—that riffs on Tsarist style with outlandish contemporary excess.

First, you'll join Moscow's elite at three-Michelin-star Jeroboam restaurant, replete with private wine room (including a $68,000 '61 Grand Cru). Later, cruise through the burlwood lobby up to O2, a glass-domed penthouse lounge with red velvet cocoon chairs, where you can swallow caviar-swathed sushi with goldleaf next to new-economy Tsars. Then indulge your Putin-esque thirsts with a vodka sommelier, who takes Muscovite livers through 400 distillations. Or explore Moscow's electric club scene: $600 buys a "nightlife butler" who renders velvet ropes invisible.

Detoxing should, of course, happen at the onsite spa—the largest in Russia—but not before the $700 Tsar's Breakfast (the world's most expensive, of course), which includes Kobe steak with a truffle omelet, foie gras "Au Torchon," beluga with blinis and a bottle of Cristal.

Because no imperialist power player would wake any other way.