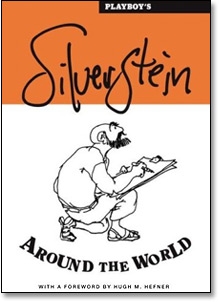 As an all-around bon vivant, you appreciate discovering long lost gems of wisdom and culture.
In 1953, Hugh Hefner founded a men's magazine called
Playboy
. You may have heard of it. In the early days,
Playboy
managed to publish art and cultural commentary (hence "I read
Playboy
for the articles") from some remarkable contributors. Shel Silverstein, more famous for writing your favorite children's books (
The Giving Tree
,
Where the Sidewalk Ends
) was one of them, and he crossed over to the adult world with surprising ease.
Hence
Playboy's Silverstein Around the World
, a fascinating new coffee table book filled with cartoon sketches and musings from Silverstein's decadent travel experiences. Silverstein was basically paid by Hef to trot the globe's most obscure corners and document his experiences (it was a rough, rough life). His Hemingwayian adventures took him as far away as Moscow and Africa and kept him as close to home as Haight-Ashbury and a Pennsylvania nudist colony (you can relate).
From 1957-1968, he got into fights, chased after local ladies, was gored by a bull, wrote, drew, drank, smoked and generally enjoyed life on Hef's dime. And luckily for you, it's all collected in full in this book so we can live vicariously through his quirky little ink drawings and humorous captions, along with some photos and an intro by Hef.
Not that you'll read the introduction...