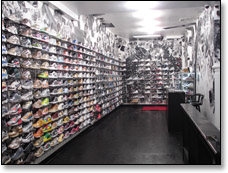 They were with you when you hit the street to show off your first girlfriend, had you looking good on the court even though you couldn't nail a lay-up and kept you in the clear when you bolted past the grocery clerk with a Playboy and a bag of Big League Chew. Sneaks. Quite possibly man's best friend. And thanks to advances in anti-fashion, your junior high kicks are cool again.
Enter
Flight Club New York
, a rare-sneaker mecca that opened Friday in the Village with thousands of hard-to-find sneakers from brands like Nike, New Balance, Adidas, Puma and others.
Floor to ceiling rows of sneakers line the store's walls, on consignment from owners hailing from Singapore to Munich—check out limited editions, styles only sold overseas (Nike Air Force One Premium "Curry" sold only in Asia, $200) and unique vintage finds.
If you can snag one of their rarities, like the one-off Nike Air Zoom Generation made for LeBron James for the 2004 All-Star Game but never released (he didn't make the team), you might even feel like Mike again...even if your jumper always looked more like Manute's.