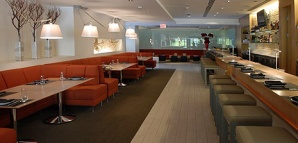 Fat as your lunchtime rolodex is, even you can fall into the occasional midday rut…and find yourself holding one power meeting after another at that same restaurant on Robertson/Wilshire/Beverly. Here to freshen things up, celebrity chef-style: the newly opened Red Seven by Wolfgang Puck.

Perched on the edge of the Pacific Design Center, this contemporary Asian eatery blends ingredients from both SoCal and the Far East with that signature Puck presentation. Which means your plate of fresh tuna and salmon sushi is served with razor-thin ginger, crunchy jalapeno and an edible flower, your Kobe burger is topped with wasabi aioli, and your bento box, which changes daily, is protein-packed with items like miso-glazed salmon and sashimi trios. As far as décor, not to be outdone by the $20,000 chairs located down the hall, the space features charcoal lacquer walls, orange banquettes and vases stuffed with pebbles and wild branches.

While Red Seven is currently open only on weekdays for lunch, you can stop by Wednesday through Friday from 4 pm to 6:30 pm for the happy hour, where you can pair shareable sushi plates with specialty cocktails like the homemade ginger syrup-infused Grey Goose Ginger Fizz.

Careful though, or you might find yourself in a brand new rut.