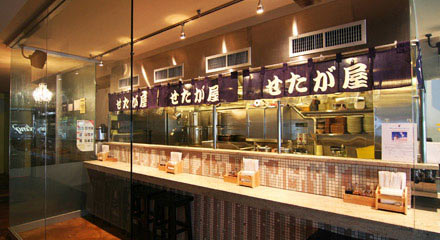 You're a logical person.

Hot weather: cold food. Cold weather: hot food.

But sometimes you need to forget logic, follow your gut and order a bowl of steaming hot noodles in the dead of summer. Tokyo favorite Ramen Setagaya opens tonight.

Adding to the suddenly ramen-heavy East Village, Ramen Setagaya is the first U.S. outpost of chef-owner Tsukasa Maejima's Tokyo chain of the same name. But before you let the word 'chain' scare you into thinking Olive Garden, know that Chef Maejima is the real deal, having won Japanese Iron-Chef-type ramen competitions and scored top rankings in ramen magazines (your subscriptions must have lapsed).

Ramen Setagaya keeps things simple and authentic, just the way you like it. Their shio (salt) ramen is a lighter, less oily version of ramen made with all natural ingredients—noodles, pork, chicken, scallop, seaweed—sourced mainly from Japan. The salt, however, comes from Khanh Hoa in Vietnam (trust us, they put Morton to shame) and is used to make 250-350 servings of broth every morning. When it's gone, it's gone.

Beyond the ramen, Setagaya will open a new restaurant in its back room in early July (talk about rapid expansion). It will be called Oriental Spoon and will showcase sushi rolls and pan-Asian small plates under a glass roof.

The sky's the limit.