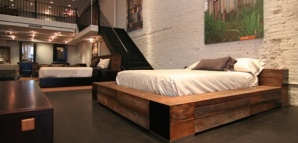 Your tastes lean to the rare and exotic.

From your food to your women, if everyone's getting on board, you're getting off. Hold your furniture to the same standards with the recently opened Environment Furniture.

After years of cutting down trees to build houses and bikini waxing huts, the Brazilians have finally pushed their indigenous and exotic Peroba tree onto the endangered tree list (trust us, this exists). Peroba was highly desired because of its luster, resistance to decay and most of all, extreme hardness (it's 35% harder than walnut—just think about the consequences for your lifestyle). That's where eco-entrepreneurs Environment Furniture come in. They've been cleverly "reclaiming" (read: knocking things down and taking) the sturdy Peroba from old barns and buildings and turning the loot into furniture that will make you want to spend time at home.

Previously available only to interior designers on the West Coast, Environment Furniture opens its first East Coast store this week, with unique pieces that are modern and clean, ranging from sofas and platform beds to butcher block tables and captain's chairs. The wood, having been exposed to the elements sometimes for up to a hundred years, is dark and weathered without feeling overly rustic. And since there's a very limited quantity of reclaimed Peroba, it won't be easy to find someone with the same bed in New York.

Actually, consider it a challenge.