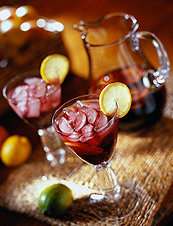 There are good times for fires: weekend barbecues, candlelit dinners, hearthside nights in a mountaintop cabin with your leggy snow bunny…
And then there are bad times: like a debilitating blaze that shuts down a restaurant for a year and a half.
Knowing much too much about the latter, but making a comeback nonetheless: welcome back
Limon
, the Castillo family's prized Peruvian restaurant that put San Francisco on the Peruvian-food map, resurrected from the ashes of its former self and reopening tomorrow on Valencia.
Chances are Limon was one of your go-to date spots prior to the fire, so you're more than familiar with its bi-level lounge/bar/restaurant layout. And you can expect that same general setup, along with the citrus-hued walls and hearty Peruvian fare. 
Only now, as you take a seat at the brand-new marble-topped ceviche bar, you'll notice more delectable fish (like the
Ceviche de Pescado
along with the signature
Ceviche Limon
) and the addition of sashimi-style
Tiraditos
, all thanks to the fresh team of chefs—one who got his start at the triple-Michelin-starred Arzak in Spain, and a local from Michael Mina.
Stick with your old date-night standbys like the crispy whole red snapper and the meaty
Lomo Saltado
with a pitcher or two of sangria, for old time's sake. Then spice things up with the newer, more refined dishes like a deconstructed duck confit and homemade ravioli in butternut sauce, washed down with pisco-inspired soju cocktails.
And it's like that year-and-a-half never happened.