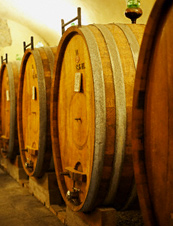 Say you wanted to buy a vineyard. First problem: they're really expensive. Second problem: you're in the middle of Chicago. Grapes don't take well to concrete.
Then again, you'd never let a couple little things like that stand between you and a good wine.
Introducing
Community Crush Chicago
, which lets you go in on a barrel of one-of-a-kind wine with a group of fellow oenophiles. You'll experience the thrill of drinking a wine you helped create—no grape stomping required.
Using the power of the Internet—and the occasional package from FedEx—you'll connect with a pinot noir grower in California, and follow the winemaking process from start to its long, fruity finish. You'll kick things off at a launch party (it's at a wine shop, so you'll be among friends) and then every few weeks you'll hit a benchmark—and another reason to party.
When the grapes are harvested, they'll overnight some bunches to Chicago so you and fellow vintners can sample them. When they're crushed, you'll taste the juice. As it ages (sometime in the winter) you'll gather to check your progress (and suggest any tweaks). And then comes the hard work: you'll vote on a label. (Drinking and voting—a great Chicago tradition.)
Finally, around this time next year, you'll have the final product in your own hands—either a single bottle of your pride and joy, or an entire case.
After waiting this long, we think you deserve a drink.