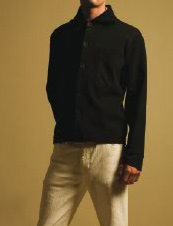 Like the sea, New York is a harsh mistress.
You're battered by thunderstorms, surrounded by mystifying and exotic creatures, and generally subjected to the whims of a rough and turbulent ocean/neighborhood. And your clothes have it even worse.
Which is why you might be intrigued by a line called
Norsea Industries
, a set of indestructible nautical gear, now available for the first time ever at haute importer Opening Ceremony.
It's gear made to stand up under the most demanding conditions possible, which means it's perfect for North Sea fishermen or anyone making the most out of Saturday night. You'll have your pick of nautical sweaters, rough jackets and thermal fleeces—all stitched together from rough, rugged materials and tough enough to survive anything from an impromptu pickup football game to an eight-month stint on a crab-fishing vessel...or a few of your more epic cab rides.
All the gear comes from the locus of hipness known as North England, the same raw, industrial region that brought you the Smiths, Manchester United and Oasis...but nobody's perfect. And thanks to a little well-timed trading, it's made it across the Atlantic for its first stateside appearance this month at a certain boutique on the Lower East Side.
Kind of like the pilgrims, but with more denim.