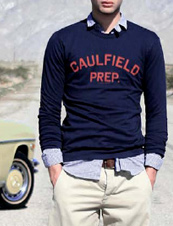 Typically speaking, you have your books. And you have your clothes.
And with very few exceptions—like that gripping history of neckwear's role in the French Revolution,
Ascot, Oui!
—never the two shall meet.
Well, here comes another exception:
Caulfield Preparatory
, a new line of preppy shirts, suits and more, based on that entitled punk Holden Caulfield from
Catcher in the Rye
, available now.
We know what you're thinking—just what the world needs, another line inspired by J.D. Salinger's angsty prep school student. In a word: exactly. In a few more words: created by a Quiksilver vet who traded in boardshorts for chinos, the line is also partially based on the designer's grandfather—who died like a man, with his dog, at sea aboard his vintage Italian yacht. (Some guys have all the luck.)
So you'll find hoodies and henleys that would look just as good on a boat (not included) as they would on a walk in the park with man's best friend (also not included). Or pair the corduroy blazer with jeans for your first date with an English teacher. (Just be sure to study J.D. Salinger's Wikipedia page in advance.) Or throw on the button-down for those days when you're going straight from work to a party—but be prepared to field question about the subtly mismatched vintage buttons. You can also pick up long johns and even plaid umbrellas, but you probably know when and where to put those into use.
The Upper East Side of the mind.