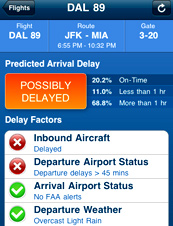 Friends, it's crunch time.
Two weeks from today is Labor Day, and chances are you're flying somewhere. And chances are that flight will be delayed.
We know. We're as outraged as you are.
But don't take our word for it. Introducing
FlightCaster
, a new, first-of-its-kind program that uses a radical patent-pending algorithm to tell you (with high probability) whether your flight will be delayed, or if you'll be sitting on the tarmac for a while. (Math: who knew?)
This isn't the first site to seduce you with such promises, but it is the first to draw info from sources other than the airlines—everything from seasonal weather patterns and real-time air-traffic info to the past 10 years of flight data. Here's how it works: a few hours before your flight, check this thing (via your iPhone, BlackBerry or the web), and it will spit out the exact odds that your plane will be on time. It's like Bing's travel site meets
The Mentalist
(but without the smug protagonist).
As you've probably figured out, this opens up a world of possibilities. Suddenly, you have a few extra pre-airport hours to, say, order a second martini. Or, since this thing estimates how long you'll be sitting on the tarmac, you can request a seat change that lets you spend the extra time next to that leggy blonde in 5B. But, of course, the true value of this technology lies in the realm of wager-based airline tracking—you know, for the inevitable Kramer-style lounge conversation that ends with large sums of money placed on whether there's a delay on this afternoon's JetBlue 1065 from JFK.
Which, ironically, is off to Vegas.