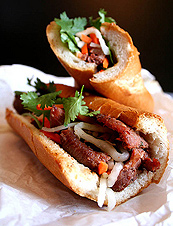 This just in—there are these things called food trucks. And they're
mobile
. (We
know
.)
And though you might've thought you didn't need another lunch spot that can speed away just as you reach for your wallet (and make traffic even worse), there are times when an exception is called for.
And that exception just may be the
Nom Nom Truck
, now doing secret stops around the city.
The reason to get excited about this one—it's slinging banh mi, a Vietnamese sandwich that's having its own resurgence of late. (So it's two trends in one.) All under five bucks, the sandwiches come in salty-sweet
BBQ Pork or Vegetarian Tofu
incarnations, and they've also got non-banh-mi options like
Lemongrass Chicken Tacos
and, to polish it off, a
Vietnamese Iced Coffee
.
After a kickoff party for friends last weekend, the truck is quietly rumbling around town this week, doing unannounced stops to work out the kinks. (Stay vigilant in your watch.) But come next week, you know the drill—follow them on
Twitter
to stay apprised of their whereabouts, and if you have to sprint out from the middle of your meeting to catch them…so be it.
Keep on truckin'.