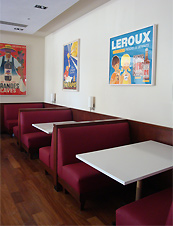 After 15 years in the heart of Century City, you can't blame a guy for wanting a little beach time.
Not to worry, he brought all the wine—Jean-Francois Meteigner's
La Cachette Bistro
soft-opens Saturday in Santa Monica.
You know the original La Cachette well—it's the acclaimed, and authentic, French legend you'd bring someone to celebrate a special occasion. Probably someone...with some gray hair. But its replacement is a lighter, brighter, California-ier version several miles west that'll still accommodate your refined foodie grandma, but also your sun-kissed date. You can't quite see the beach, but you can smell it wafting up in the breeze.
The inside's split into a formal dining room on the left and a large bar area on the right, but you'll probably want to stick to the glassed-in patio in the front. You can start with a
Manhattan Sake
(it's sake, vermouth and whiskey), and she'll have a
Rhubarb Bellini
. Then comes classics like
Coq au Vin
, modern options like an
Organic Burger With Fig Chutney
, and
Buffalo Short Ribs With Coffee Rub
.
And afterward, the sand's just a few steps away.
You hear she likes long walks.