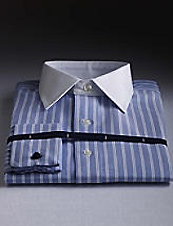 After consecutive bikini-rich pool parties and a healthy dose of mojitos, you could probably say you had a solid weekend.
But we're back to Monday, back to the office, back to where things have to be more, well, buttoned-up—shirts included.
Happily, there's a new online shop designed to make all that buttoning painless.
Welcome
J. Hilburn
, a website that dispatches an arsenal of tailors to you to take your measurements, sew up your custom shirts and deliver them by hand, available now in San Francisco.
Combining the convenience of the virtual world with the personalization of actual human contact, you'll be glad to know that the folks at J. Hilburn will come to you for your fittings (like the Chinese delivery of the sartorial world). Just set up a time for your personal style advisor to come by your condo or office, and they'll help you create your ideal, bespoke shirt.
From blue label to the top-of-the-line black, you'll like that the fabric for the shirts is sourced from Italy—from the same mill as Thomas Pink and Brooks Brothers. Pick classics from pinstripe to herringbone, then opt for one of seven collar styles (like the spread collar or full cutaway), as well as cuffs, pockets and more components than you ever thought went into a shirt.
When it's all over, your advisor will hand-deliver your shirt, and if that shirt's everything you were looking for, it'll be on record for the next time you need to replenish.
After all, you're not one to mess with perfection.