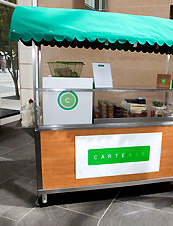 You've got your power-lunch spot and you've got your deli spot.  
And all is well. 
But when those two worlds collide, your lunch may never be the same again. 
(Or maybe you'll just have a really great new sandwich place.) 
Introducing
Carte415
—your newest gourmet-driven lunch spot where you can grab four-star quality, market-foraged sandwiches, salads and soups and go—set up now in the atrium lobby at the corner of 2nd and Mission. 
Brought to you by up-and-coming, twenty-something star chef Joshua Skenes, formerly with the Michael Mina Group, Carte415 is like a casual, pop-up restaurant extension of the Sunday-night prix-fixe experiment we all know as Saison. 
While Carte415 is meant to be your quick stop for some of the best midday meals you'll find in the 415, you'll be glad to know that you don't necessarily have to grab and go. You could, for example, pick up today's
Framani Charcuterie Sandwich
(with Gruyère cheese, quince jam and Calabrian chili) and eat it right there at a table in the glass-enclosed atrium. 
And since the menu changes at the whim of what's freshest at the market, you'll want to follow Josh on Twitter for the latest updates. Though we predict you won't want to miss the days when the
Bacon-Jam BLT
or
Banh Mi Trifecta
(crackling pork, roasted pork shoulder and pâté), or even the
Cava-Cured Salmon Sandwich
are on the list. 
We're pretty sure this is why Twitter was invented.