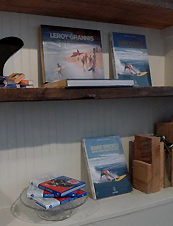 Ah, the thrill of surfing.
The crashing waves, the quiet moments of Zen, the glory of
Point Break
.
But whether or not you regularly channel the spirit of the ocean gods (or Keanu Reeves), you're certainly not opposed to sipping an expertly pulled espresso on a hidden back patio in Soho surrounded by foliage and high-end surfboards.
Welcome to
Saturdays
, your new favorite surf shop and espresso bar and, most important, secret garden deck, now providing your latest hideaway for midday
coffee and snacks.

Built by a group of artists/dreamers/surfers/malcontents that basically just wanted a Zen sanctuary in the city, you'll want to duck into the little storefront when you're looking to while away a lazy, hazy Saturday afternoon with a croissant and a latte and maybe spark up a love affair with surfing (or just a love affair).

The shop starts as a minimalist black-and-white coffee bar, then gives way to a warm, dark wood surf shop stocking rare boards, upscale wetsuits and other natty surf accouterments and then, it hits you...

The back deck—a massive expanse of wood and foliage perfect for escaping the mad buzz of Soho tourists while contemplating your existence in the universe for an hour, or just hosting your next pig roast.

For now, only the front coffee bar and outdoor seating on Crosby Street are open—but not to worry, within a few weeks the shop and deck will be open for business, luaus, gatherings and all your sex wax needs.

Which are plentiful.