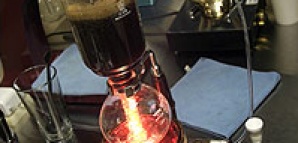 You love your caffeine.

And by love we mean there have been moments you might have traded in your kidney for the right cup of Java. Which is why it was refreshing to stumble upon a spot that takes the dark stuff as seriously as you do: Funnel Mill, a new coffee lounge just opened in Santa Monica.

Instead of frappuccinos and plastic lids, at Funnel Mill you'll find plush leather couches, reading lamps and the real serious drinkers in town. For the connoisseurs, Funnel Mill brews its coffee by syphoning, a complicated process that involves open flames, glass tubes and purified oxygen (trust us, it's legal). This filtering process is superior to traditional drip or French press methods because the "sludge" gets completely left behind and acidity is pretty much eliminated—freeing you up to pursue your habit a little more recklessly.

The result feels closer to sipping a fine wine than gulping down Sanka. Bitterness is replaced with flavors of walnuts, chocolate and cherry, depending on the bean. Funnel Mill carries twenty types of beans imported from all over the globe, and owners will walk you through "tastings." They also have over 25 types of tea (you can taste the leaves before you invest in a cup), authentic Italian hot chocolate so thick your spoon stands straight up, and iced coffee which is brewed for four days and features ingenious coffee ice cubes.

If you've been looking to take your habit to the next level, try the ultra rare Kopi Luwak from Indonesia. At $60 a cup or $500 a pound, management compares it to opening a $5,000 bottle of wine.

Looks like that '71 Lafitte Rothschild will just have to wait.