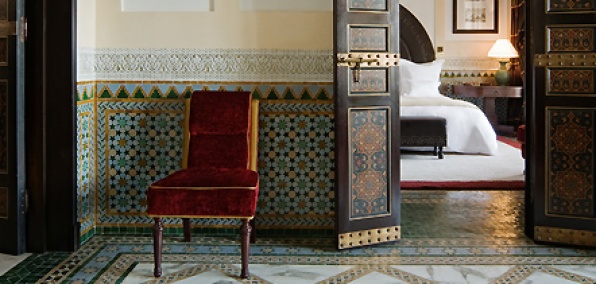 As you know damn well, the stars knew how to travel back in the day. They dressed sharp, kept a starlet on each arm, and when they went abroad, they hung their collective hat at the largest, most opulent outfit in town.
And, as luck would have it, a few of the old places are still around.
Welcome to the
Hotel La Mamounia
, a Moroccan garden palace dating back to the '20s...and now—after a three year sweeping redesign and renovation—about to open its discreet yet storied doors again (you might say that what happens here stays here—until it ends up in a History Channel documentary...or an episode of
Gossip Girl
).
It's the kind of arabesque grand hotel you've seen in the movies—directors like Hitchcock have filmed there, and with past guests like Scorcese and Oliver Stone, it's always a prime candidate to pop up the next time you're in a cinema. Inside, you're smoothly inducted into a world of sophisticated guests, opulent newly-expanded suites (for privacy, go for the ornate three-bedroom riads replete with private pools), multiple Michelin-starred chefs and rooftop garden bars. For almost a century, the hotel's been entertaining the sort of people who you should be travelling with, so you'll be able to sink into the velvet-lined couches in Jacques Brel's old suite, peruse the same library Charlie Chaplin did and knock back a cocktail or two in Winston Churchill's favorite on-site watering hole.
Of course, if you're looking for an earthier place to stroll, the hotel is built around an impeccably tended 40-acre garden dotted with lavender and palm trees, originally gifted by the Sultan of Morocco to his son in the 18th century.
Just like when your dad got you your first Discman. Sort of.