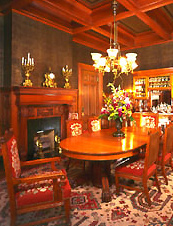 Nothing against restaurants or anything, but sometimes your surroundings need a little something extra—like a moat, or maybe a turret. Or perhaps a damsel in distress…
Yes, sometimes you need to eat like a king—like, in a castle.
Introducing
One Night in Montmartre
, a dinner being served tonight in a San Francisco castle by new nomadic supper club graffEats, which is taking reservations now.
While we can't divulge the exact whereabouts of this castle (it's a state secret), we
can
say it's not Julius' Castle, and give you a hint: "think historic city landmark."
Or skip the guessing and just email our guy Blair (former chef/owner of Tinderbox), and he'll send you the locale's exact coordinates. Once you find it, enter the 19th-century fortress through its massive doors to find roughly 40 or so likeminded, castle-storming souls mingling in random nooks throughout.
Inside, you'll knock back handmade cocktails or perhaps some wine expertly pulled from the private stash of La Folie's wine director. Then, settle into the labyrinth-like interior, where you'll be served French-inspired dishes like
Local Bavette Steak With a Soy Demi Buerre Monte
and
Pistou-Slathered, Popcorn-Topped White Tuna
.
As you dine at the huge oak table (in a knights-of-the-roundtable sort of way), pay attention to the Cubist-style paintings on the walls—as you'll no doubt notice, the artist herself is nearby, working on her latest masterpiece.
Rest assured, she's not doing caricatures.