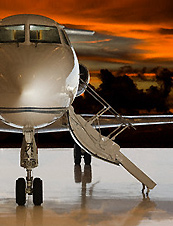 Whew. Things were pretty hairy there. And while we don't want to jinx anything, things are starting to look up, and we're starting to feel safe blowing giant chunks of change on mindless self-gratification again.
Like, on private jets.
Not that we're recommending anything that will have Congress all up in your business. We're talking about something so discreet, so smart, it borders on old-fashioned—we're talking about sharing.
We're talking about
Greenjets
, the world's first carpool service for private jets, helping you bypass security lines now.
We know what you're thinking: UD, isn't this a bit…indulgent? Yes, yes it is, but in a way that's totally okay for the times. It's a teensy,
tiny
(though still awesome) seat on a Learjet and frankly, you deserve that. And while companies like NetJets can help you co-own an entire private jet, this one does something infinitely more responsible: it helps you get just a couple of seats on a private jet—so you can avoid rubbing elbows with the unwashed masses, all without springing for an entire Cessna.
Since you've been known to spend your share of weekends on the road, you might want to snag a Greenjetcard—the top-level one will fly you (and your assistant) from, say, NYC to Miami for three grand or less. And on those occasions when last-minute business calls—new "talent" needs evaluating in Vegas, the Kardashians have an opening for a pool boy in South Beach—just tell the service's concierge you need a flight tomorrow, and he'll take care of the rest.
We'll assume you know how to slip this into an expense report.