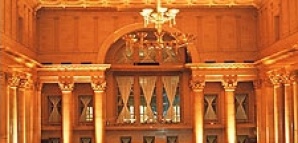 It can be lonely down in Wall Street. Maybe you need to get more involved. You know, join a club.

Lucky for you, one just opened its doors: the ultra-swank Cipriani Club, which is now accepting members.

Housed in a magnificent Greek Revival building that was once home to the Merchants Exchange, the Cipriani Club is your full-city-block-length luxury den. For a modest $5,000 annual fee, club membership lets you pop into the new Cipriani Wall Street restaurant (opening in three weeks) each morning for complimentary omelets and Bellinis on the members-only second floor (it's a doppelganger of Cipriani Downtown's upper level, home to inspiring ideas like supermodel karaoke). You can return to the restaurant for lunch or dinner, and from 5 to 7 each night sample wine and cheese at the private happy hour. Other luxe amenities include: a 24-seat movie theater, full-service Red Flower spa, billiards room with felt-lined walls, wine cellar, barbershop, shoeshine parlor and even a library (with an on-site librarian and a fully functional Dewey Decimal system).

And if you'd rather sidestep the membership dues, you can always buy one of the Cipriani Wall Street condos, giving you club benefits for two years. It'll also make it easier for you to bump into fellow resident Naomi Campbell.

Because while "models and bottles" may be tacky, we're pretty sure supermodels and Bellinis are timeless.