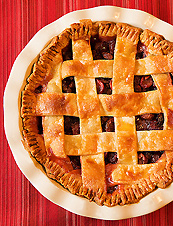 When you hear delivery, you think pie.
And while we've got some great
new
pizza
joints
in our midst, we've got a new delivery that might just make you rethink your pepperoni order. 
(Yes, we're talking about the fruit-filled, flaky variety.)
Introducing the
Pie Truck
, a one-man pie delivery service baking and shuttling fresh, homemade goodies straight to you, taking orders now.
Think of the Pie Truck as a mobile version of the vintage pie-topped cartoon windowsill—you get the usual suspects, like apple, pecan, banana cream, sweet potato and, the seasonal pick, strawberry rhubarb. But piemaster Chris, a former architect turned pie man, also delivers savory individual-sized chicken potpies and coconut curry potpies (we can't blame you if you do dessert before dinner).
Let's say you want to start up Pot Pie Fridays at the office, email Chris your address and pie selections by 10pm Tuesday (giving him time to shop for the freshest local, organic produce to put in your pies), and come Friday he'll show up to your conference room door with pink pastry boxes filled with golden-crusted masterpieces.
Or, if you want it all to yourself, he also delivers on Saturday mornings.
After all, you like to have your pie and eat it too. (We just couldn't resist...)