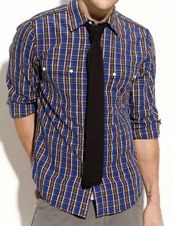 Too many options can sometimes be a bad thing. Not often. But sometimes. 
Like—denim. You don't need bedazzling. You don't need leather trim. You don't need purple rabbit tails or a haiku on your back pocket.
In fact, you don't need any new denim brands, period. The world has plenty. And there's a new LA-based label that agrees with you—introducing
Life/After/Denim
, sneaking into stores this weekend.
The idea here is to get you casual, slim-cut pieces with a classic-preppy vibe to spiff up all those jeans you've already got—at a totally reasonable price point. Shouldn't be revolutionary, yet it sort of feels like it is.
Think plaid shirts for $72, a plaid bomber for $128 and hand-drawn plaid shorts and plaid chinos for the golf course. They've also dove fearlessly into the world of non-plaids, like a black sweater (with a subtle sweatshirt-collar detail, $78) or a bibbed white oxford.
After its debut at Planet Blue, you'll start seeing Life/After/Denim in other boutiques that routinely charge you three times this much for a shirt, and then in more mainstream shops nationwide this fall.
Call it Everyone/After/You.