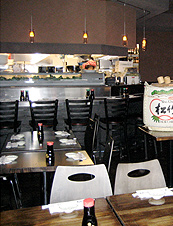 The quest for that next great sushi spot is everlasting.
So while you might've heard about an Inner Richmond sushi restaurant's unique offerings (
Magic Mushrooms
or
Sexy Scallops
, anyone?), chances are you probably haven't made it to the Avenues yet.
No worries: they're delivering the Inner Richmond to you. Welcome
Sushi Bistro
on 24th Street.
After more than a year in the making, the guys from Sushi Bistro on Balboa are expanding and bringing their sushi innovations and fresh-off-the-hook standards to the up-and-coming part of the Mission known more for Mexican bakeries than raw fish—and it's just opened.
If you're out around 24th Street looking for a quick bite (that's not a burrito), you'll like your options here.
Walk in past the gigantic 15-gallon drum of sake (an opening gift from a brewery-friend) to the seven-seat sushi bar helmed by owner/chef Sheen Zhou. If they're pouring from the drum, toast the restaurant's success then order starters like the flame-torched
Butterfish Blasters
and sake-doused
Drunken Halibut
before turning to sushi.
The baby lobster/avocado/shrimp tempura
C-2 Roll
and the spicy albacore
Monster-In-Law
are two signature rolls that'll set you up nicely for fresh uni from Hokkaido or jumbo hamachi flown fresh from Japan overnight.
Proving, once again, that it's always better when things come to you.