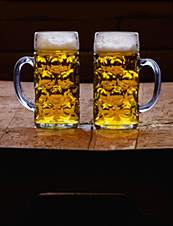 For the past 10 years, we've been championing the cherished notion that drinking, if done correctly, can actually
save
the environment. (Not to mention relationships, careers, lives, etc…)
So when we heard that someone was actually putting on a whole festival devoted to the idea, well…we couldn't wait to tell you about it.
Welcome to the
2009 Craft Lager Festival
, the world's first solar-powered craft beer fest, happening next month in Colorado and selling tickets now.
The first thing you should know about this two-day sudsathon is that the theme is "Drink a beer, save a tree." And if that sounds like some crazy hippie eco-speak, well…you're probably right. 
But it also means everything here is powered by the sun, so you can proudly imbibe—your choices hail from 20 states, and include intoxicating elixirs from esteemed brewers like Boulevard, Full Sail and New Belgium—with the unique sense of peace and self-satisfaction that comes with tippling for a cause. (It would also take an extensive, not to mention dangerous, road trip to sample such a fine breadth of offerings.)
And since you know how to charm a crowd, you'll no doubt be invited to be among the chosen few who sample
Warning Sign
, an ultra-boozy small-batch lager that's produced exclusively for the festival.
If that's not worth a quick jaunt to Colorado, we don't know what is.