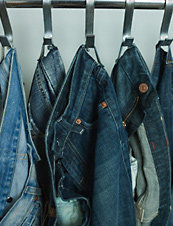 Jeans used to be simple—hardworking pants meant to be beat up and worn in on motorcycles while eating apple pie and playing baseball.
But things have gotten a little weird—we're talking hidden cargo pockets, spandex zippers and turquoise kneepads weird.
Arriving from San Francisco to fight the good fight is
Self Edge
, a store hell-bent on bringing you the best, most durable old-school denim in the world, opening Friday on the LES.
If you've ever seen Brando dockside in
On the Waterfront
or Newman cowboying up in
Hud
, you know that the same no-frills jeans those guys used to live in are pretty hard to come by. But Self Edge only stocks the kind of jeans that just look like jeans (and also happen to wear in like an old baseball mitt).  
The shop is a tiny sliver of wood and wrought iron stacked high with obscure, cultish Japanese denim brands (Sugar Cane, Mister Freedom, Real Japan Blues) that create old-school blue jeans on vintage American shuttle looms so they wear in better than the usual pants you do your best to destroy in your weekly dance fight.  
Besides denim, they're carrying a few shirts, sweaters and boots from up-and-coming label 3sixteen that are pretty much all you'll need to go with your new jeans.
After all, you wouldn't want to be only half-rugged.