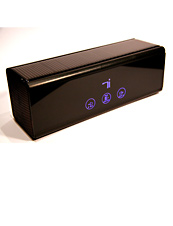 You've always liked nature—the breathtaking vistas, fresh air and an endless soundtrack of birds chirping and insects buzzing.
Actually, those sounds are effing annoying.
So for those occasions when you absolutely, positively must drown them out with the soothing sounds of Jack White's umpteenth side project—even if you've gone completely off the grid—there's the
Devotec Solar Sound Bluetooth Speakers
, powered by the sun and available now.
As with most of the past 100 years' great leaps forward in sound, it comes from Britain, but the brand will happily send one over (without jacking up shipping costs). From there, all you need is a Bluetooth-enabled device—your cell phone, say, or one of the newer iPods—filled to the brim with music. Connect wirelessly via Bluetooth, and blast away. Best of all, you can take comfort in the fact that you won't run out of juice—the device's exterior includes solar panels, which should keep it fully charged.
And since you're the cursed type who's indispensible at the office even when you're not actually in the office, you'll be pleased—or maybe not—to know that this thing's Bluetooth connectivity (and included mic) means you can use it as a speakerphone while you're at the beach.
If it was good enough for Gordon Gekko…