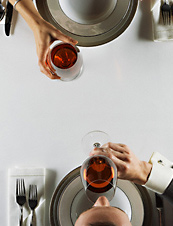 It takes a lot to impress you. Five-course dinner—sure. Fine. Great.
But a five-course dessert—well, that's a new one.
So you'll want to pay a visit to the brand-new
Bistro LQ
, a crisp indoor-outdoor space officially open tonight with an absurdly decadent five-course dessert menu.
First, find your way to a sidewalk table—the simple room spills out into the street, and the whole place is so bright and white, you'll feel like you're in a detergent commercial.
Then, start building your own post-feast feast with options like
Raspberry Glass
With a Basil Sorbet
. Then maybe some
Rice Pudding
in Goat Milk With Red Beets Espuma
. Perhaps a helping of
Avocado Mousse
. A
Chocolate Cookie With Salted Peanut Brittle Ice Cream
. And for lucky number five—
A Composition Around Dark Chocolate
, which includes everything from churros with chocolate sauce to a chocolate pancake.
Goes without saying you'll be wanting some wine with all of this—not to worry, that can be arranged. But if you're really feeling gonzo, there's another option that's truly mind-melting.
Dinner.