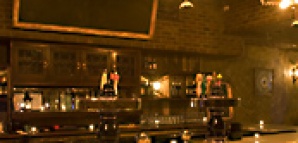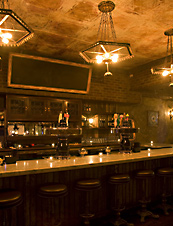 When a rustic new Cahuenga spot promises quality pizza until 4am, you can bet we'll be first to investigate.
Literally. That was us sneaking up to the bar for some wine and a pie. First customer ever.
So here's the scoop on
Vinolio
, now soft-open in the heart of Hollywood.
With the old brick, old chandeliers and beat-up wood floors, it's the kind of old-timey find that's been around forever—except it's brand new—here to help you refuel after
Ecco
,
Halo
and
Bar Delux
 close up. (Your night, as usual, is just beginning.)
Drop in for a table by the windows and order your prosciutto,
Fava-Bean Crostini
and a pretty tasty Neapolitan-style
Potato Pizza
—it's topped with potato, rosemary and pancetta, and everything from the oil to the flour has been shipped over from the mother boot.
By the time it arrives, piping hot, a piano man will probably have wandered in. And maybe some jazz guys ready to jam. They're not tired either.
Once the place is fully up and running (in about three weeks), you'll want to stroll through that main room to seek out the hidden garden patio taking shape out back.
In the meantime, you've got about 21 pizzas waiting.