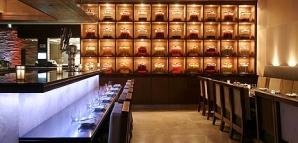 You can never have too many good date spots.

And you'd be hard pressed to find one as romantic and versatile as Zu Robata, which soft opened last week near Brentwood.

Once you step inside the dimly lit, earth-toned eatery, you and your guest should settle in to the comfy, modular suede seats tucked away in the back and grab a pair of the custom-made stainless steel chopsticks. If your companion is a bit, um, selective (read: picky), don't worry: Chef Ricardo Zarate's extensive leather-bound menu features everything from sushi and sashimi to salads and steaks. Dishes like Prime Filet Marinated with Spicy Pear Miso and Grilled Scallops with Chili Garlic Sauce are prepared on the Robata grill, which uses low-smoke Binchotan charcoal—no Kingsford or Match Light here.

Sake and shoshu are the drink specialties. In fact, the entire back wall is made of glass tubs containing fruit-infused shoshu. Pineapple and watermelon are just a few of the choices (the selection changes seasonally), and each is infused for a minimum of six weeks.

Who knows, with this much culinary diversity, Zu Robata may have what it takes to become your regular date spot.

You may just want to give the wait staff a head's up.