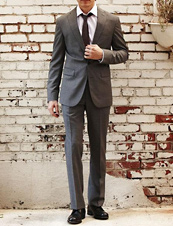 Ah, LA.  
Every now and then the City of Angels turns out a decent film, rolls some good maki and flaunts the fact that there are more than a few scantily clad starlets terrorizing paparazzi and popping Krug magnums all over the Sunset Strip. (It's just how they relax out there.)
But let's be honest: it's probably the last place on earth you're looking for any advice involving style. Mostly because—correct us if we're wrong—you're not fond of hitting the streets in a T-shirt that was clearly bedazzled by a 13-year-old girl after being doodled on by a drunken tattoo artist.  
Anyway, you should know that a few months back, a shop opened in LA determined to sell you clothes that you could actually wear. In public. Problem is, you aren't in LA.  
And that's okay: after hitting its anti-LA stride,
Confederacy
is officially open online, meaning less shopping, but more looking natty (our kind of trade-off).  
Before you get any crazy ideas about an LA clothing shop, it may help to think of Confederacy as the West Coast Odin—in other words, the shop exists to keep you loaded up with wearable, up-and-coming labels before they hit the big time (or just after). Think moody
Robert Geller
shirts, trim/preppy Michael Bastian sweaters and dressier Common Projects sneakers.  
Which should be perfect for anywhere but LA.