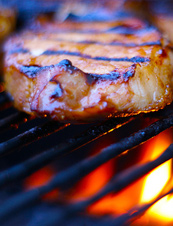 In your quest for nourishment, you've chased down
trucks
,
bikes
and
more bikes
as well as scoped out
various underground dens
 of sustenance.
So we decided to dig up one more…
Welcome the
Wild Game Supper Club
, the latest underground dining affair featuring five courses of freshly hunted wild game, brought to you by James Stolich of CookWithJames, taking reservations for an August 8 dinner now.
While you might be familiar with James, an ex-marketing/advertising guru turned Quince-trained cook, and his bimonthly supper clubs, you'll be glad to know he's branching out. You could say he's going wild, literally, and you won't want to miss it.
For the first time, he's using his hunter-friend connections to hook you up with fresh-caught wild game like boar, elk and antelope. Then he's stoking up his signature fireplace grill imported from Tuscany to sear said meats. And finally, he's sourced slimly allocated booze from his distiller pals that he won't reveal until the dinner (you'd think he also had CIA training) to pair with each course.
If you prefer something more intimate, you can plan your own dinner party—for you and your date or poker night with the guys—complete with aforementioned hunted wild meats and spirits pairings.
And for extra entertainment, we hear James can slice champagne bottles open with a machete.
But you didn't hear that from us.